2023: There's so much world out there. | The Intercultural Calendar for Global Minded People
Hi there!
Each year, our o8 Maneki cat carries a message for us. The OVERW8 Maneki is based on the legendary cat from the Asian myth, and its main job is beckoning good opportunities with its paw. This cat is therefore considered THE good luck symbol in Japan and perfect for our favourite clients – startups and scaleups, entrepreneurs and their teams.
This year (so much we can reveal already now) the o8 Maneki reminds us that
even though things might look and be challenging, we need to go out there, again and again, stay and become more open-minded so opportunity can find us.
The o8 Maneki calls out to us to get back into 'explorative mode' (you know, that mode in which we are confident, open-minded, embracing possibilities, seeing solutions rather than problems) with a pretty clear message:
"There is so much world out there."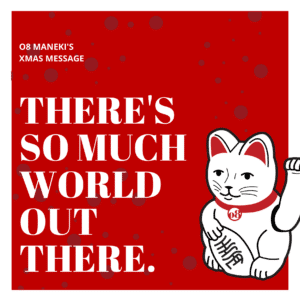 To help open our eyes and minds throughout the whole year 2023, we have created
The 2023 Intercultural Calendar for Global-Minded People & International Marketers
for you.
It is meant to inspire and trigger ideas on a global scale, including
'classic' holidays from a diverse range of traditions around the globe (Christian, Muslim, Jewish, Buddhist, Hindu, to name a few)
birthdays of inspiring people (think Alfred Einstein, Hania Rani),
plus, we added some "hey, you might not need it, but it's fun" days.
Not to forget simply some inspo quotes to carry you through the cappuccino reflection moments.
It is 100% free, comes in a handy horizontal A4 format (easy to print) and can help you learn some holidays you might never have heard of before and get creative about what you want to share on Social Media in a hopefully exciting 2023.
Get the post-its and pens out and have fun!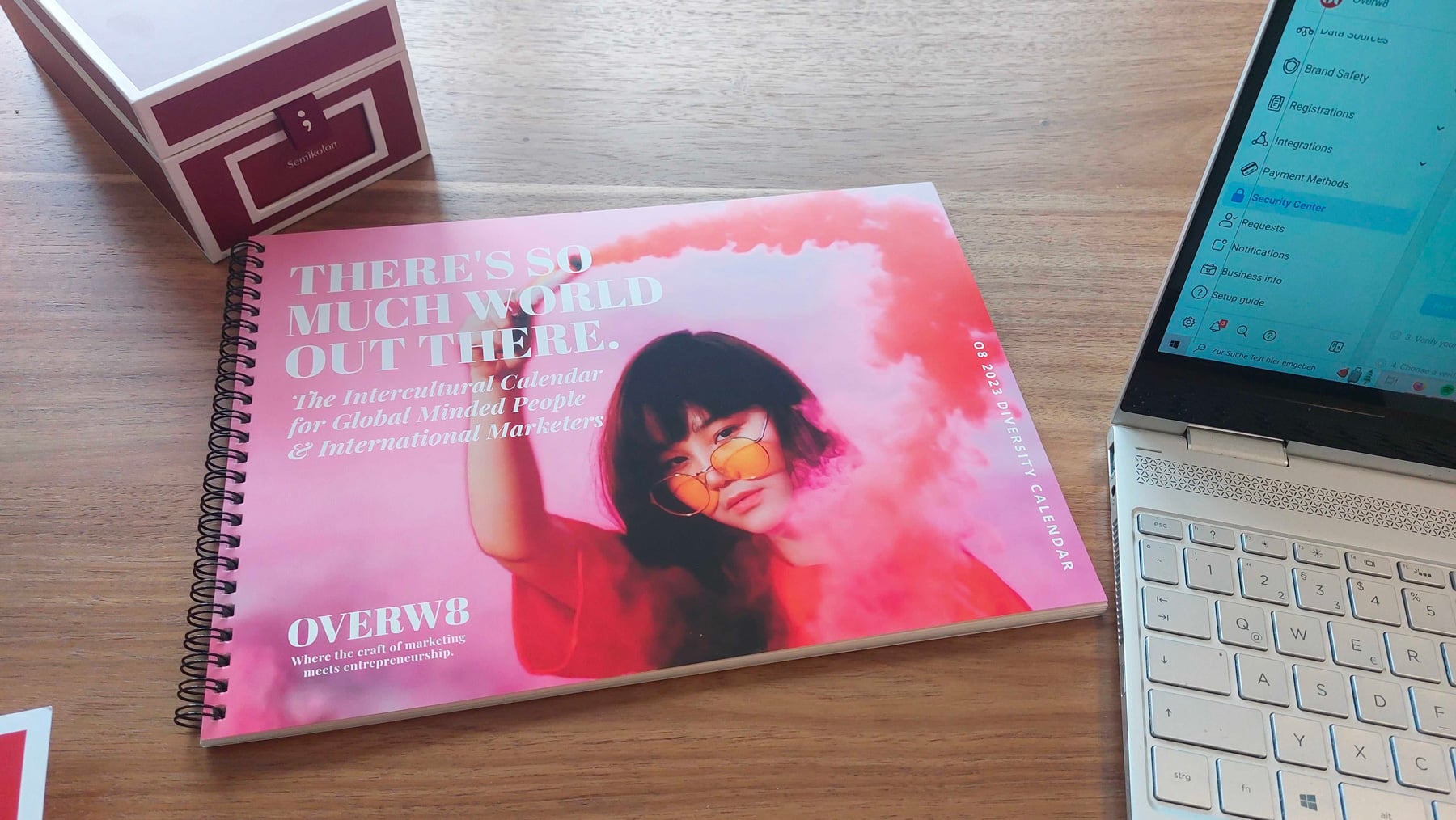 ---
And if you'd like us to share with us what you created, add the hashtag #somuchworldoutthere in your post. We are looking forward to it!
---
📆 January
Jan 6th: 3 Holy Kings Day
Jan 7th: Orthodox Christmas
Jan 10th: Houseplant Appreciation Day
Jan 15th – 18th: Pongal (Hindu)
Jan 18th: Martin Luther King Day (USA)
Jan 22nd: Lunar New Year (Buddhist)
Jan 27th: Wolfgang Amadeus Mozart's Birthday
Jan 30th: Croissant Day [must have!]
🤩 Our favourite of the month? Hello!? There is Croissant Day!  🥐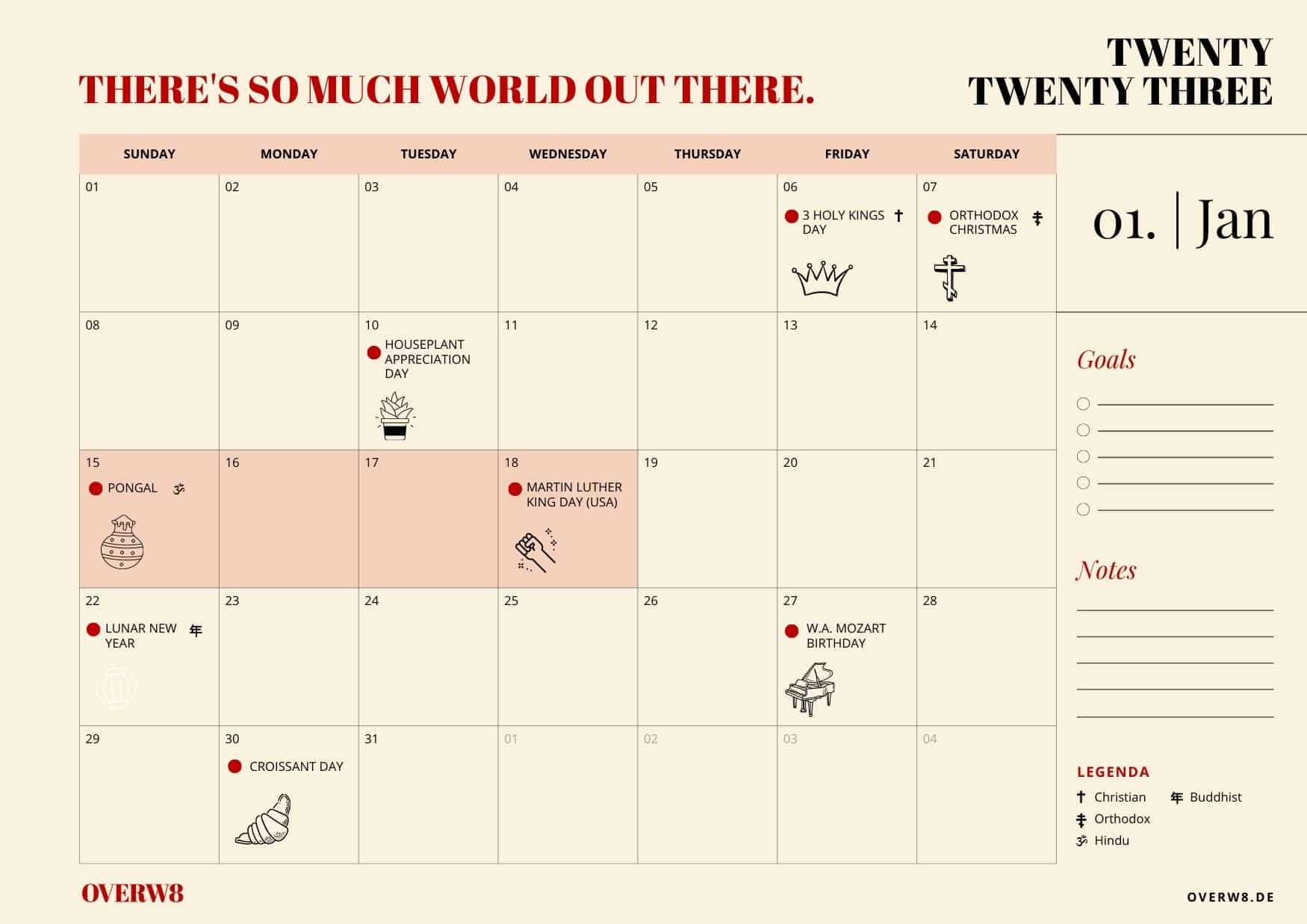 Inspirational Quote for January: Be present
Especially in January, it is easy to mentally snap to "how things used to be" "how they should have been" etc. Let us at least take that load of our brains, stay present and 'play it where it lies'.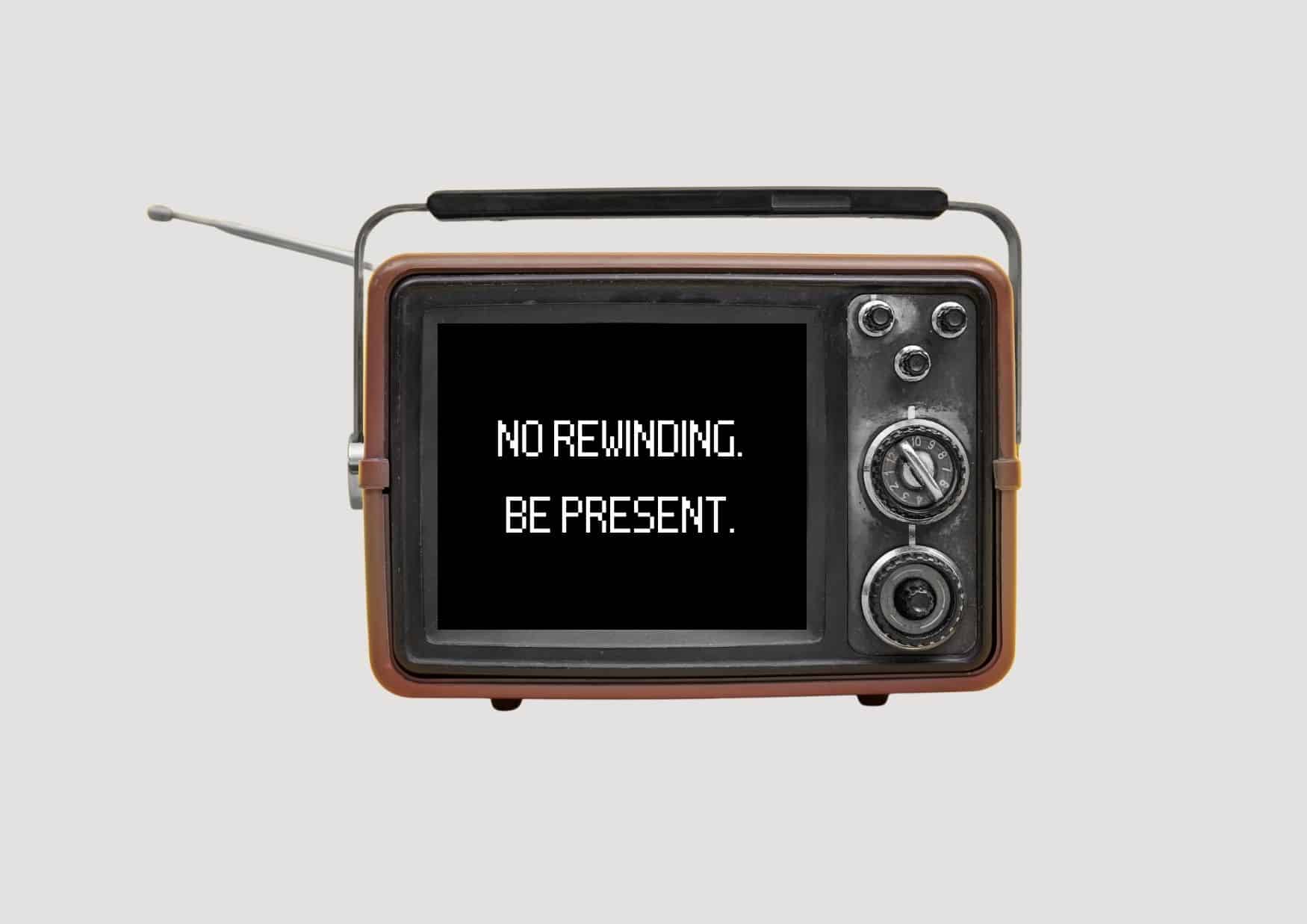 ---
📆 February
Feb 2nd: Candlemas / Lichtmess (Pagan / Celtic)
Feb 3rd: Gertrude Stein Birthday
Feb 4th: Work Naked Day
Fed 11th: Don't Cry Over Spilled Milk Day
Feb 14th: Valentine's Day
Feb 16th – 21st: Carnival (Germany)
Feb 18th: Drink Wine Day
Feb 21st: Carnival
Feb 22nd: Ash Wednesday
Feb 24th: Lantern Day – Taiwan (Buddhist)
🤩 Our favourite of the month: Shall we go for the "Work Naked"? Nah, we go for "Drink Wine Day". 😉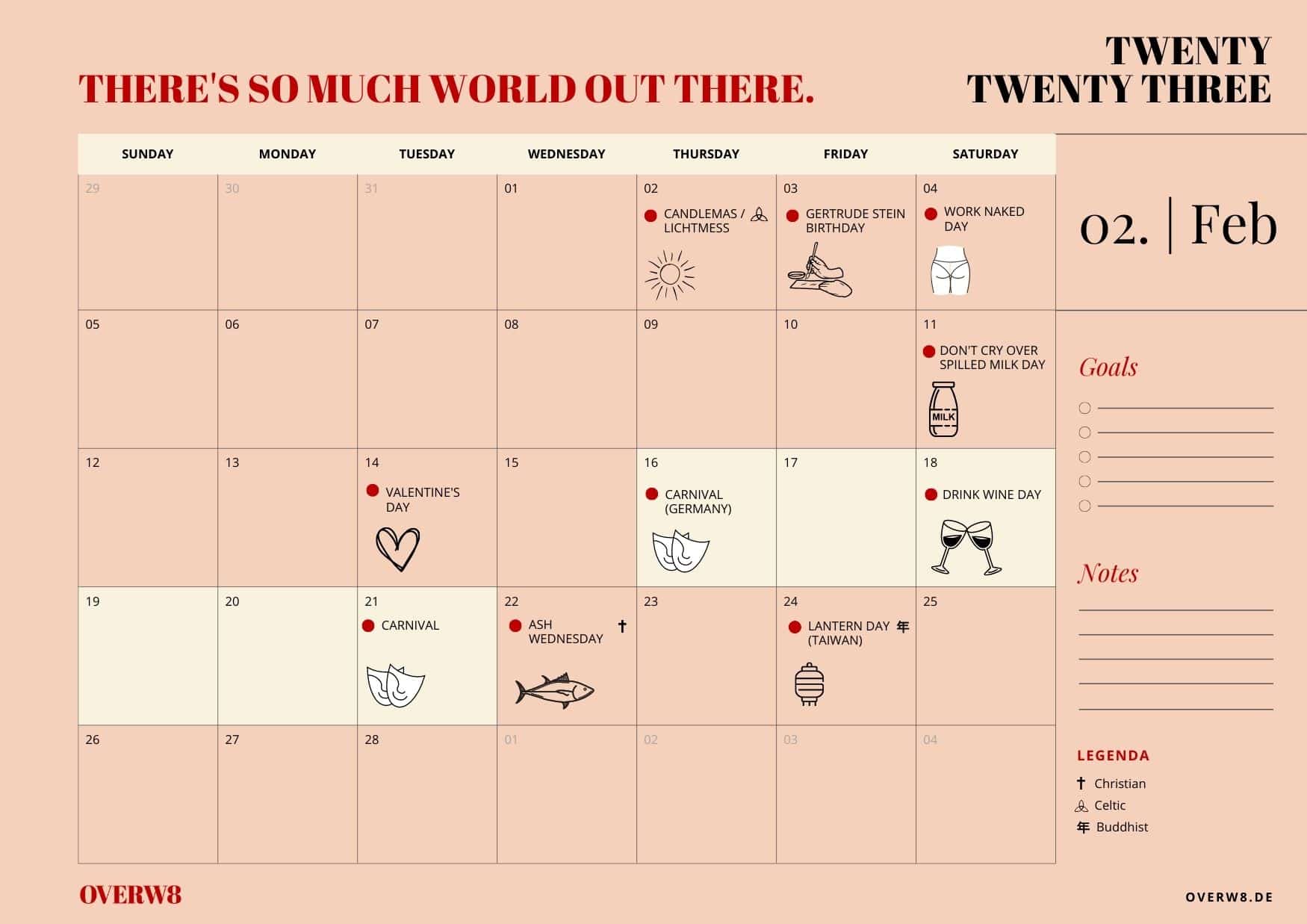 Inspirational Quote for February
This is our all-time favourite quote about networking… just imagine each person coming with a special set of opportunities.
"Opportunities don't hand in the sky. They are attached to people."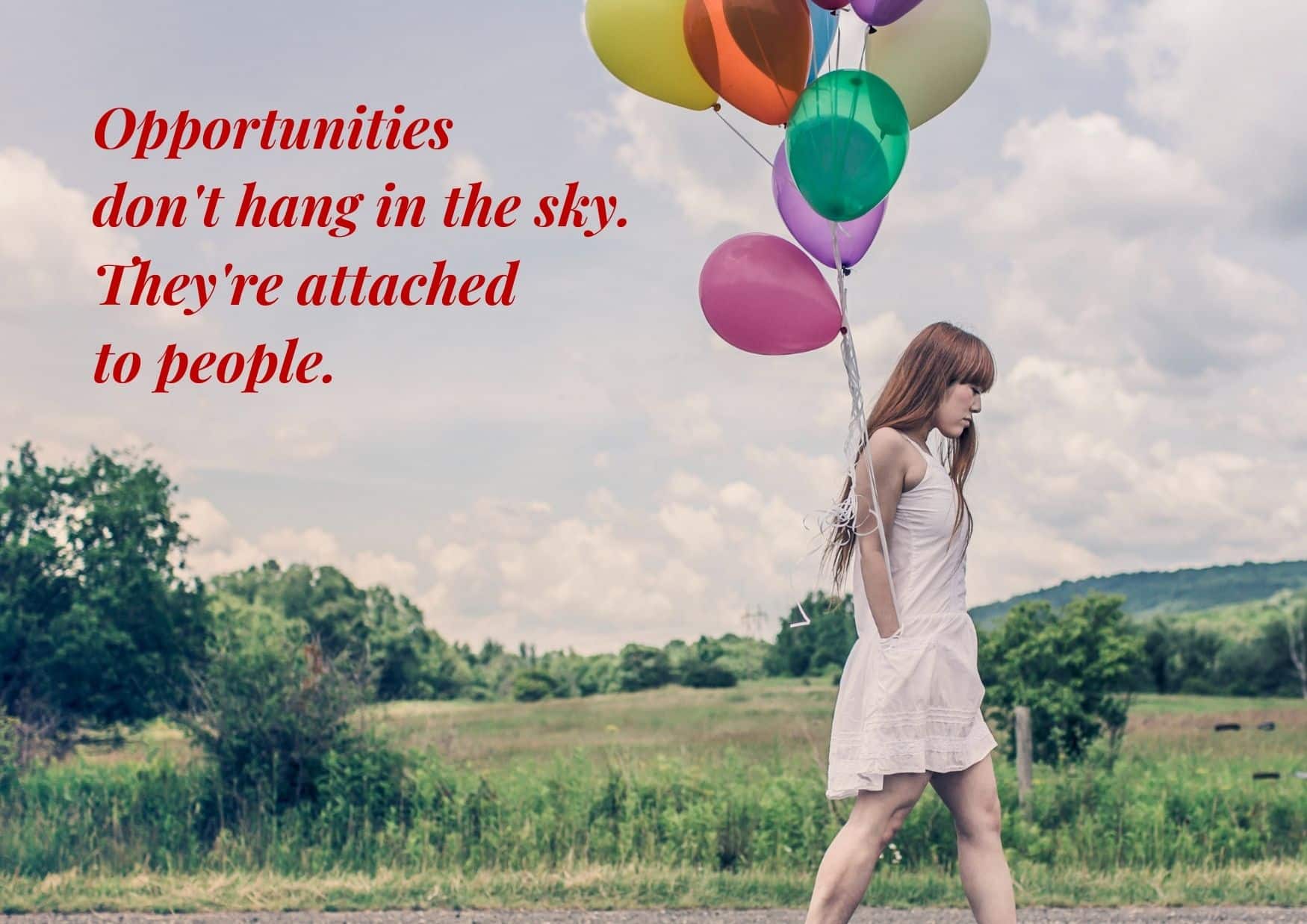 ---
📆 March
Mar 1st: Bosnia Independence Day
Mar 6th – 7th: Purim (Jewish)
Mar 8th: Holi (Hindu)
Mar 12th: Alfred Hitchcock Day
Mar 14th: Pie Day + Albert Einstein Birthday
Mar 17Th: St. Patrick's Day
Mar 21st – 22nd: Ostara (Pagan / Celtic)
Mar 22nd: Newroz (Persian)
Mar 23rd: Ramadan: Start (Muslim)
A month of new beginnings!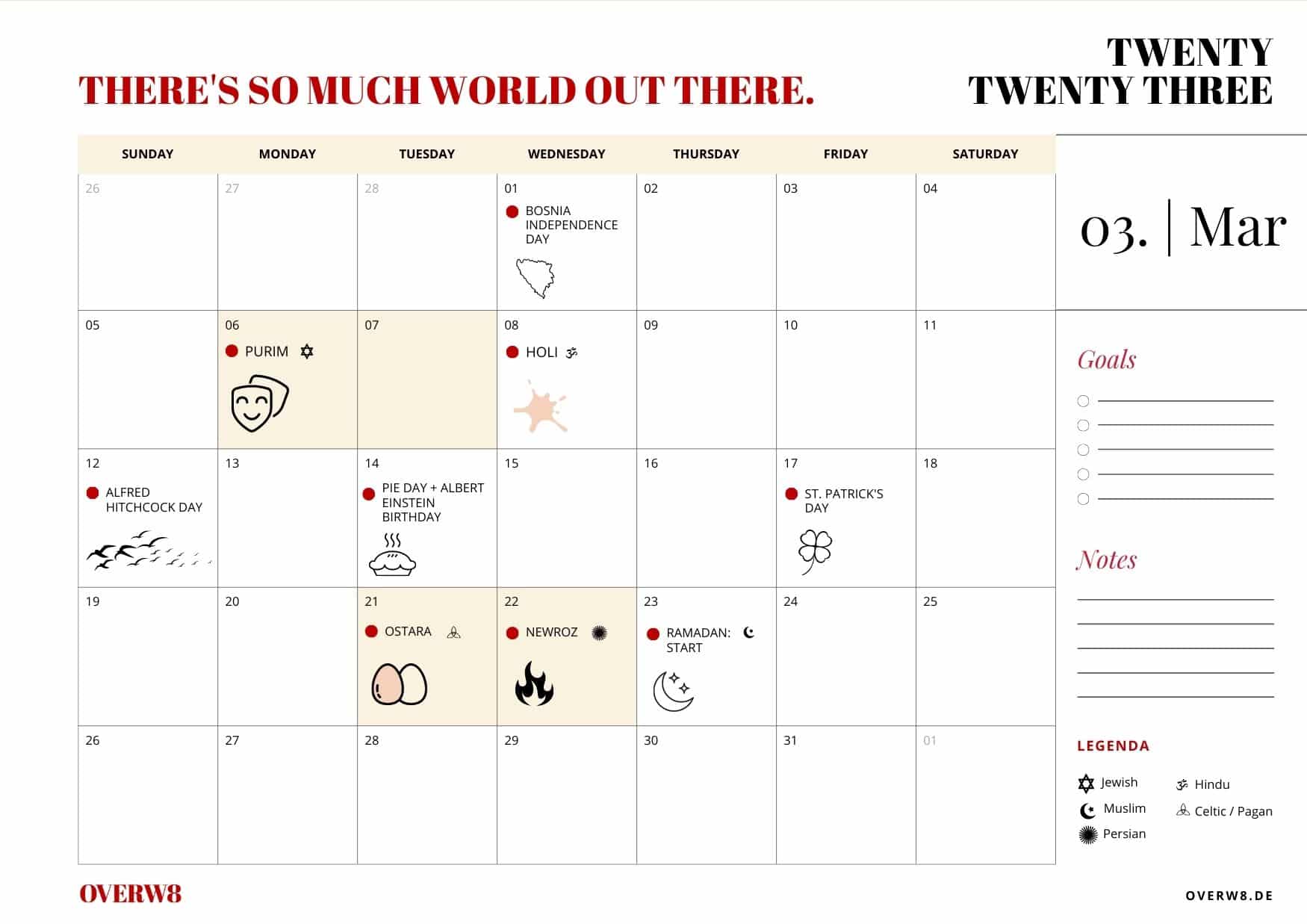 Inspirational Quote for March
"You can't do epic stuff with basic people."
Go for brilliance and true #awesomeness!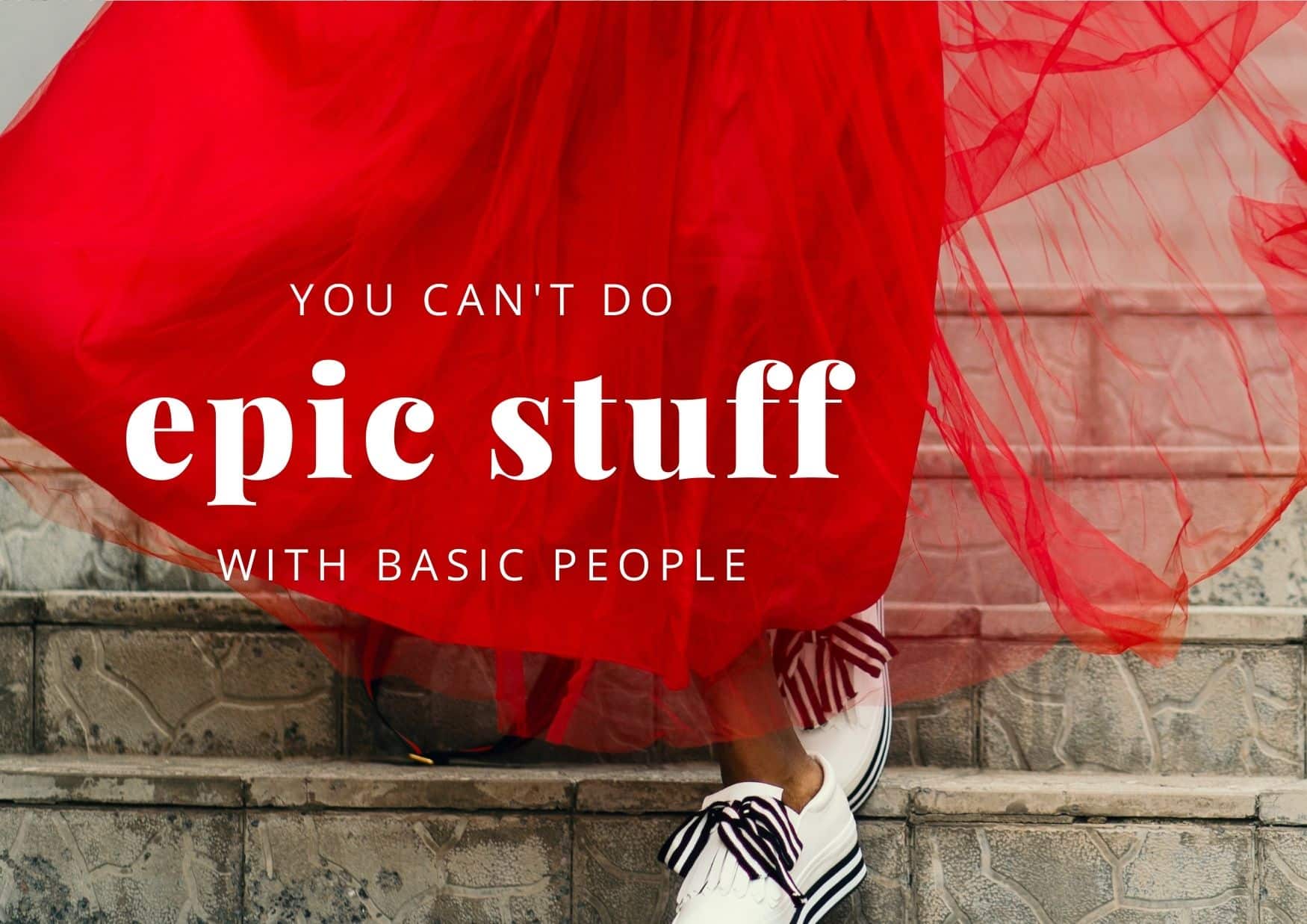 ---
📆 April
Apr 4th: Sorry Charlie Day + Maya Angelou Birthday
Apr 7th: Good Friday
Apr 9th: Easter Sunday
Apr 10th: Easter Monday
Apr 13th – 15th: Songkran – Thai (Buddhist)
Apr 15th: Leonardo Da Vinci Birthday
Apr 17th: Haiku Poetry Day
Apr 19th: Wear Your Pajamas At Work Day
Apr 21st: Ramadan: Ends (Muslim)
Apr 22nd: Eid-Al-Fitr (Muslim)
Apr 26th: Pretzel Day
Apr 27th: King's Day (Netherlands)
🥨 A crunchy salty pretzel is truly important for good life quality, our CEO Kristin (living in Bavaria) would say. Then again… what's your favourite day in April?
Inspiration for April
Part of using the explorative modes of our brain is to take BOLD decisions. If a decision is not bold, the result might be "Okeeeeeeey", but probably not "#awesome", isn't it? Be a daredevil and go for the bold option this month.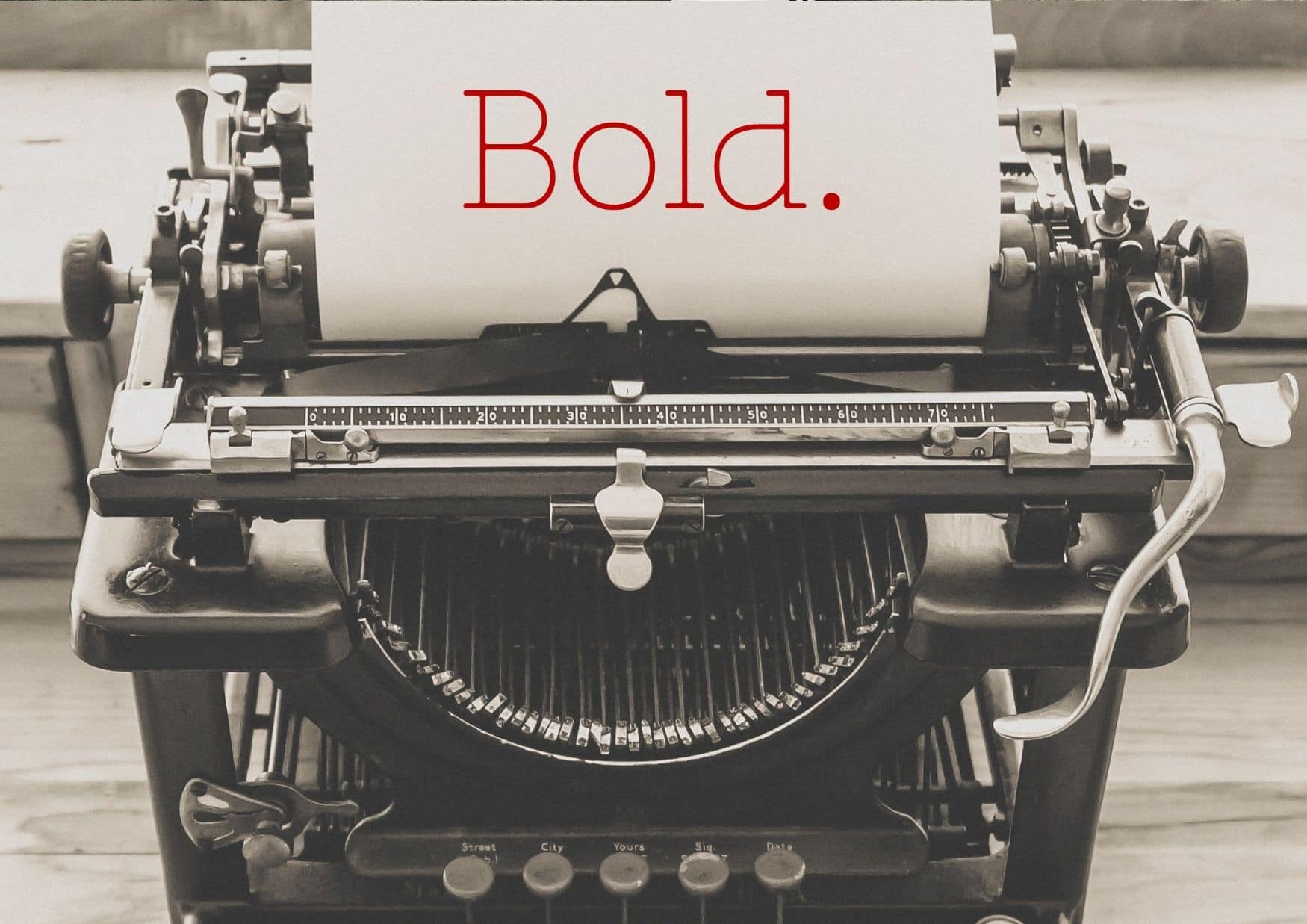 ---
📆 May
May 1st: International Worker's Day + Vappu (Finland)
May 5th: Cinco De Mayo (Mexico)
May 7th: Peter Tchaikovsky's Birthday
May 12th: Limerick Day
May 13th: Otl Aicher's Birthday (we have a fantastic special about him… already seen it?)
May 18th: Ascension Of Christ
May 20th: Be A Millionaire Day
May 23rd: Diversity Day
May 25th – 29th: Shavuot (Jewish) + R.W. Emerson Birthday
May 28th: Pentecost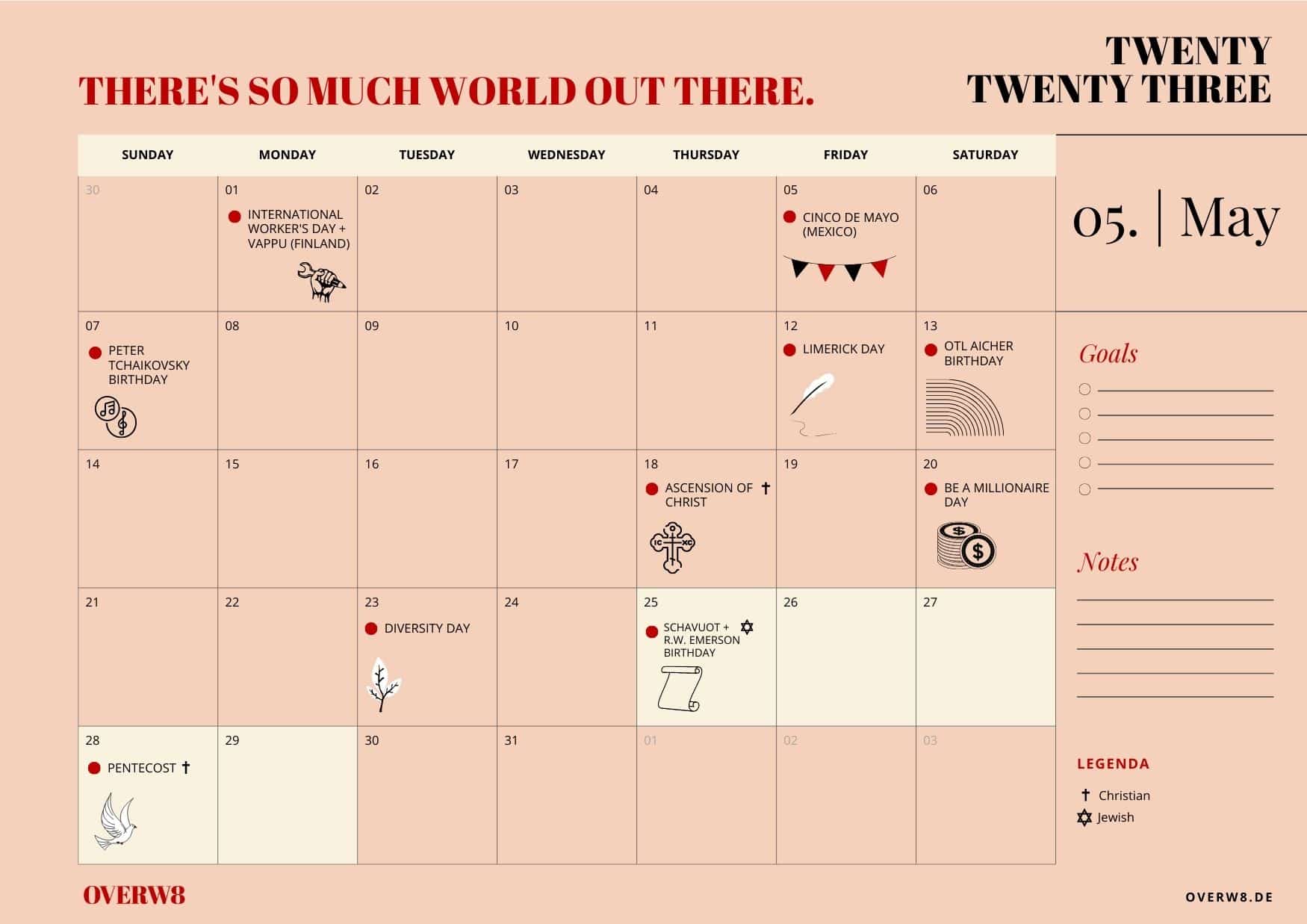 📆 Inspiration Quote for May
This here can easily get lost…
"Different is good."
Allow your team to be (positively) different, your service to be outstanding = different, and your brand to truly differentiate vs. others. It might feel weird at first, but then you'll notice how much better your company and offering stand out – and how that gives you leverage for sales.
---
📆 June
Jun 1st: Children's Day
Jun 2nd: Italy National Day
Jun 5th: World Environment Day
Jun 8th: Corpus Christi
Jun 18th: International Picnic Day
Jun 21st: Summer Solstice
Jun 24th: Midsummer Day
Jun 27th: Helen Keller Day
🦐🌅 We just love midsummer – such a great time of the year! How would you want to celebrate it this year?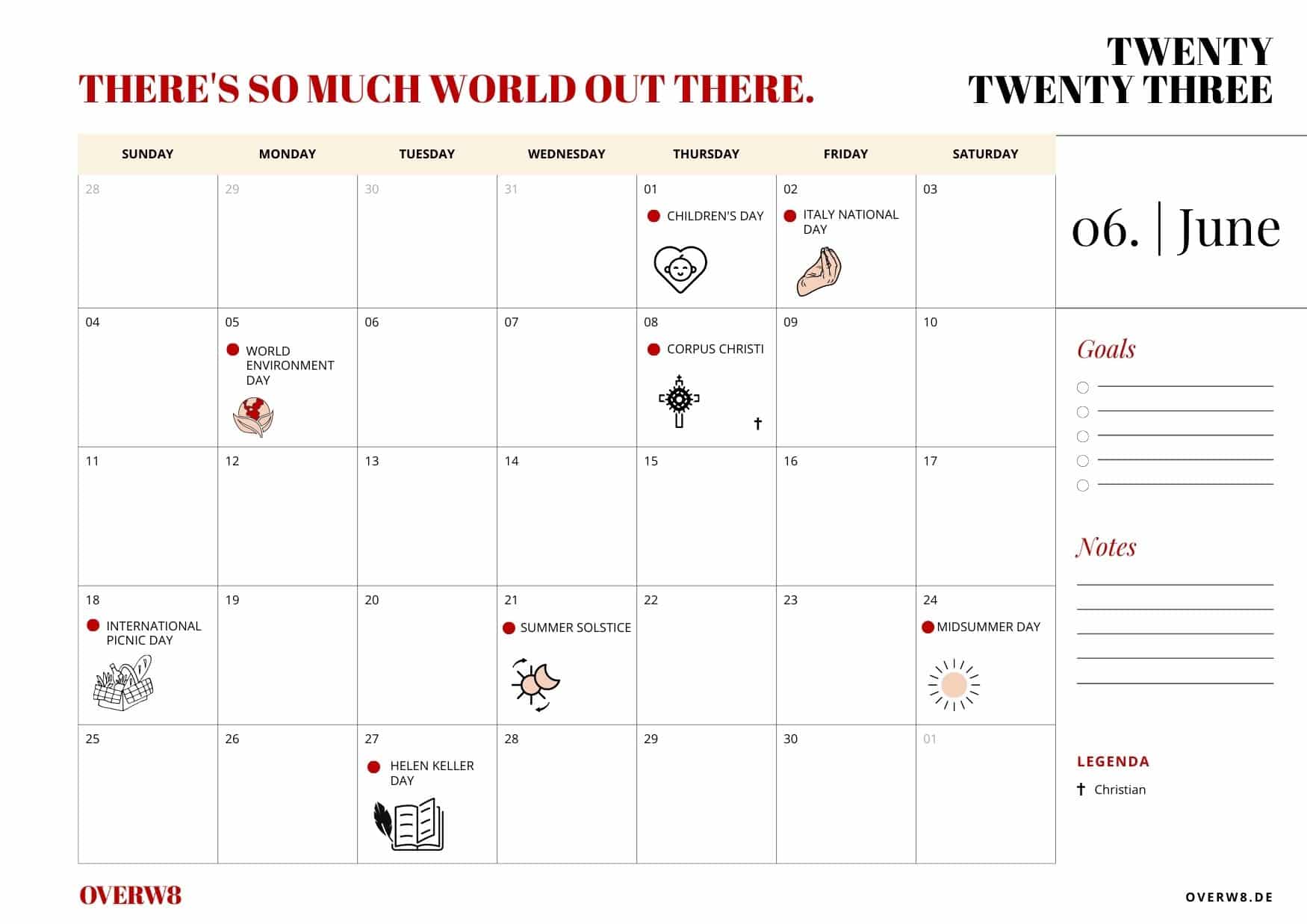 Inspirational Quote for June
Did you know that confidence is directly connected to high energy, being pessimistic to having only low energy levels left?
So, in the meanwhile, the year – even and especially – if good and intense, might have taken its toll on your overall energy. In cases like that we recall our Banksy:
"If you get tired, learn to rest, not to quit."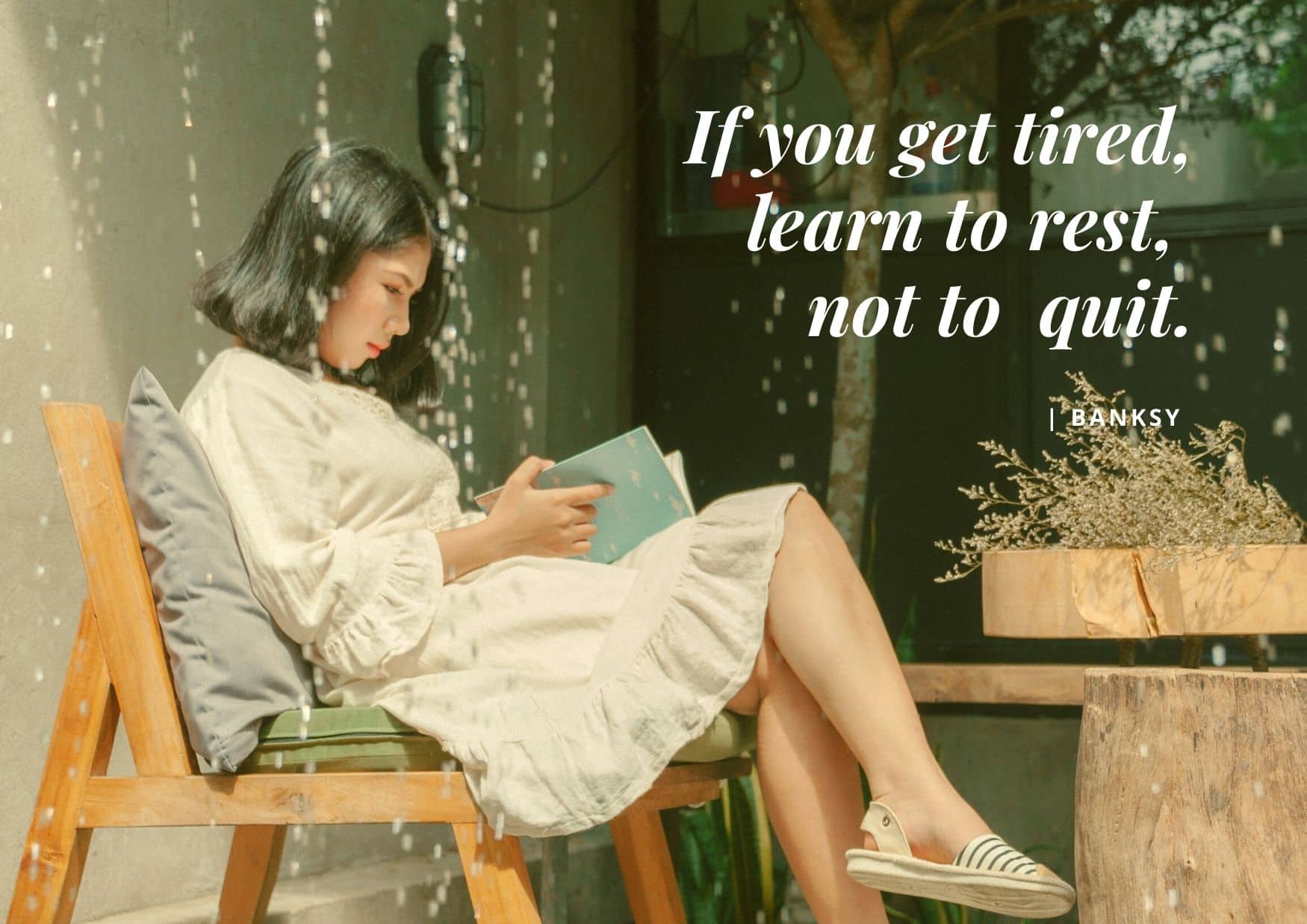 ---
---
📆 July
Jul 1st: Canada Day
Jul 4th: Independence Day (U.S.)
Jul 6th: Frida Kahlo's Birthday
Jul 12th: Simplicity Day
Jul 13th: Embrace Your Geekness Day
Jul 14th: French National Day
Jul 17th: World Emoji Day
Jul 22nd: Christopher Street Day
Jul 30th: Friendship Day
What a month! Which is your preferred day(s) to highlight? 🤩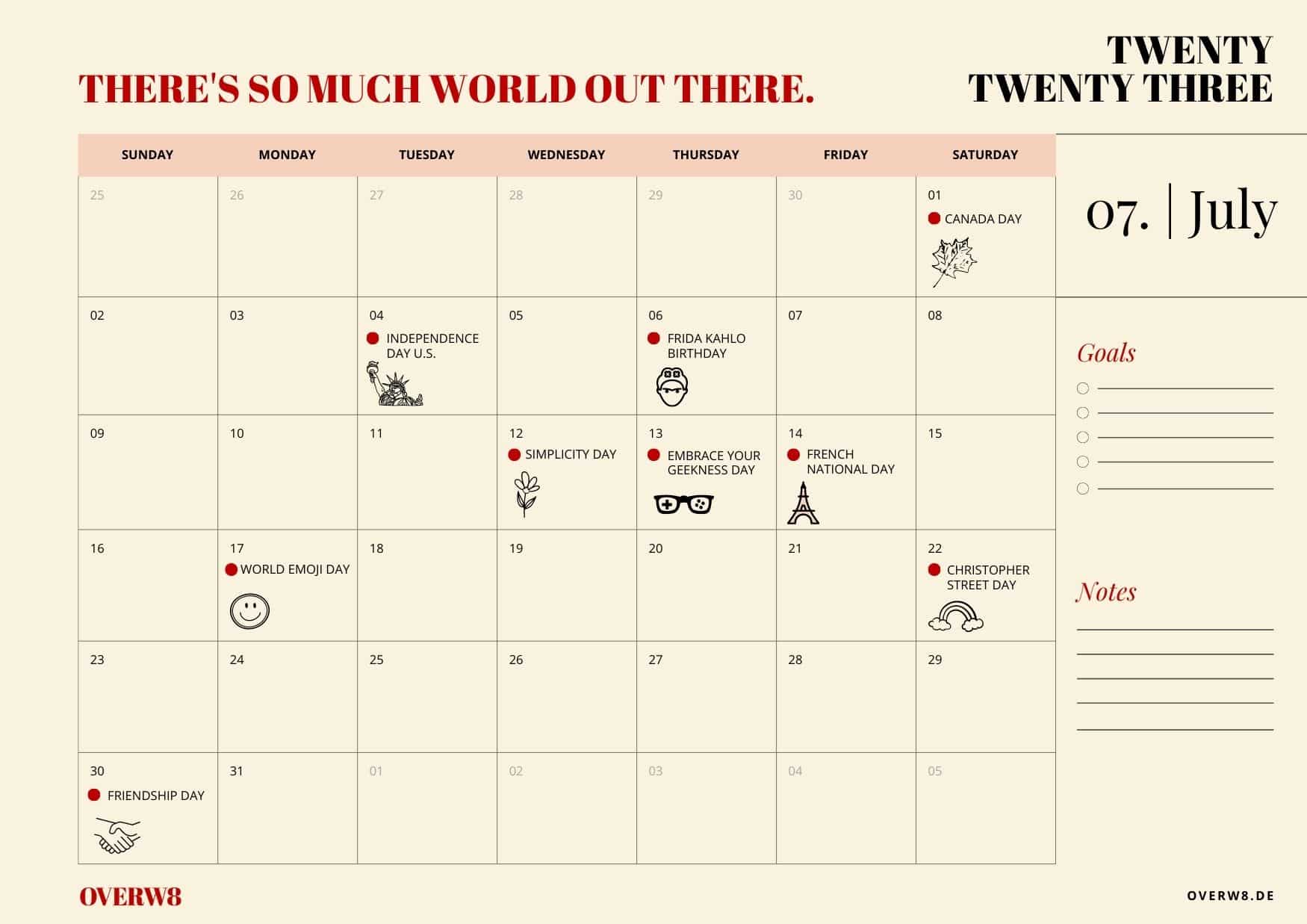 Inspirational Quote / Mantra for July
Ok, so this one is not literally a quote, but more a mantra.
"Because."
It shall remind us that sometimes dissecting the reasons why we or something within us wanted to become an entrepreneur, create a product, or join a startup does not really help. It is actually enough to just feel the urge of doing so.
Because.
---
📆 August
Aug 8th: International Cat Day
Aug 9th: Book Lovers Day
Aug 13th: Esala Perahera (Buddhist)
Aug 15th: Assumption Day
Aug 25th: Leonard Bernstein Day
Aug 30th: La Tomatina (Spain)
Google "La Tomatina" and have fun! Though, of course, International Cat Day is a natural 'house favourite'.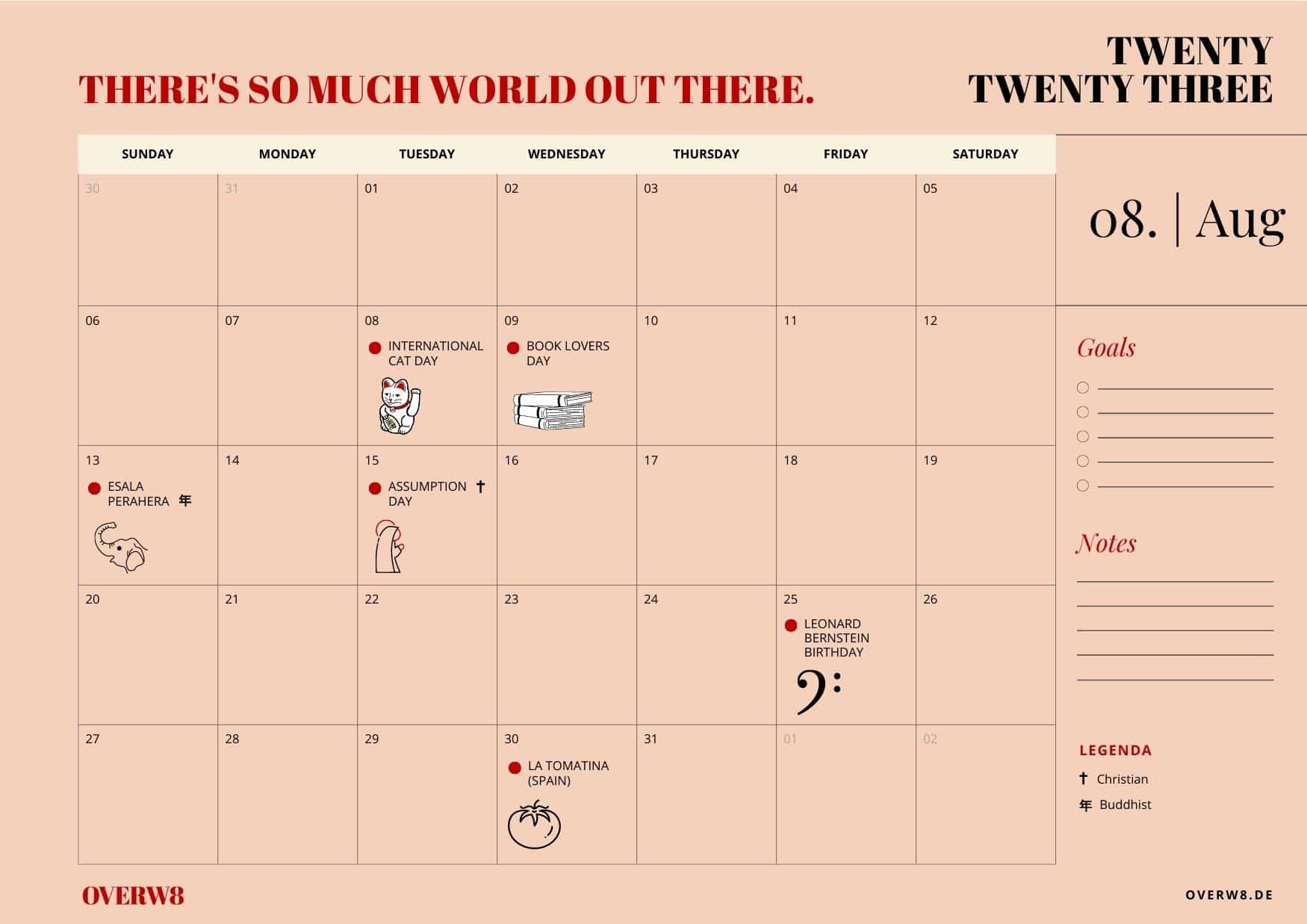 Inspiration for August
"Clarity"
is where you'll find fresh power.
Use August (and maybe a jump into a cool lake) to reflect, regroup and then start with renewed resolve into September and the home stretch of the year.
Also, 'clarity' can refer to reviewing old beliefs that might block our perspective from seeing new solutions – and opportunities. Let's get rid of them and take a new look.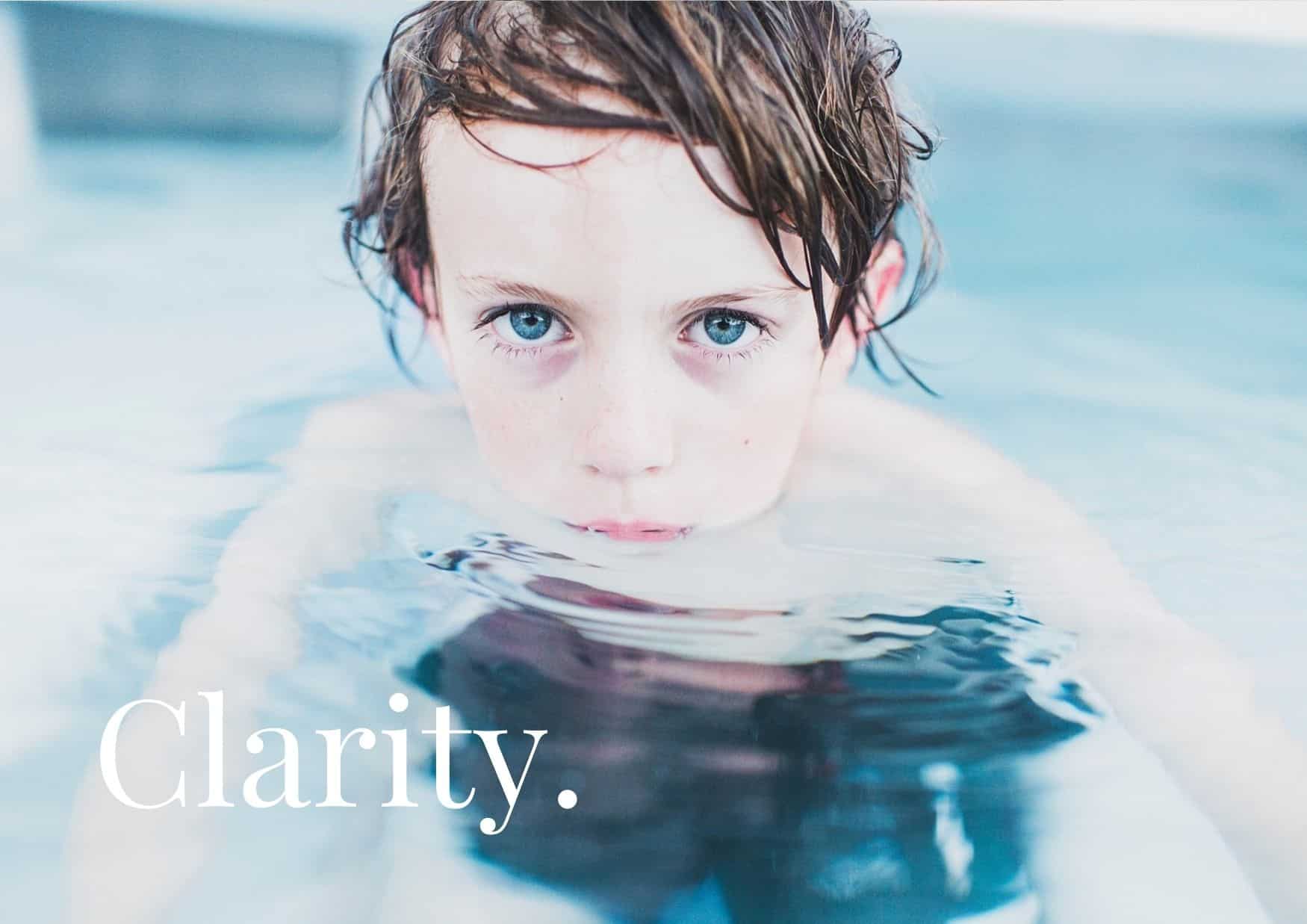 ---
📆 September
Sep 4th: Eat An Extra Dessert Day
Sep 5th: Hania Rani's Birthday
Sep 6th: Krishna Janmashtami (Hindu)
Sep 16th – 17th: Rosh Hashanah (Jewish)
Sep 19th: Ganesha Chaturthi (Hindu)
Sep 20th: International Talk Like A Pirate Day ☠
Sep 21st: International Peace Day
Sep 23rd: Autumn Equinox
Sep 24th: Jom Kippur (Jewish)
Sep 29th: Moon /Mooncake Festival (Buddhist)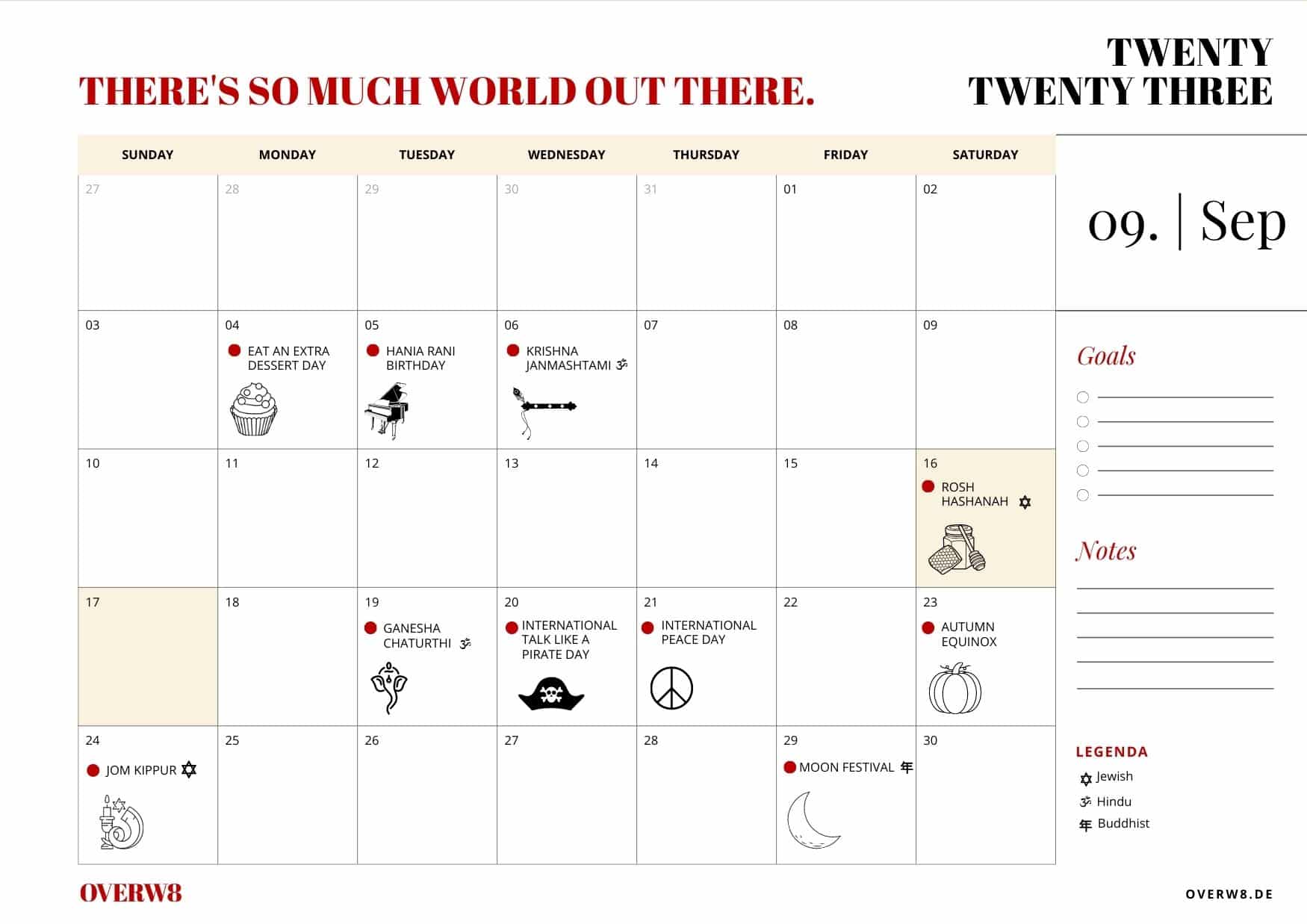 📆 Inspiration for September
The time after "Back to school", the third third of the year, is typically the moment when we seriously overload our agendas with a pile of things that is simply impossible to get done during those few months.
"Big Dreams. Tiny Steps."
Allow yourself to dream big while also humbly accepting that those big things will still be built by tiny everyday steps.
---
📆 October
Oct 1st: International Coffee Day
Oct 3rd: Day Of German Unity
Oct 4th: World Animal Day
Oct 7th – 8th: Schmini Atzeret (Jewish)
Oct 11th: Coming Out Day
Oct 16th: Oscar Wilde's Birthday
Oct 24th: Dussehrah (Hindu)
Oct 29th: Internet Day
Oct 31st: Halloween / Samhain
🤹♀ Such a huge variety of topics to get creative about – which ones easily connect with your brand?
Inspiration for October
As the leaves turn to red, yellow, and gold… remind yourself of your inherent greatness. How brilliant can you and your team be if for one moment you stop judging, being perfectionist (hey, admit it!), overly critical. Enjoy!
---
📆 November
Nov 1st: All Saints
Nov 2nd: Dìa De Los Muertos (Mexico) [check out our special about it!]
Nov 7th: Marie Curie Birthday
Nov 9th: Chaos Never Dies Day
Nov 11th: St. Martin
Nov 13th: Diwali
Nov 23rd: Thanksgiving Day (U.S.) + Fibonacci Day
Inspiration for November
This month, we'd like to remind you that not seeing in detail yet where you reach is not a problem per se. That fog will dissolve as you move towards your target. Do not let the fog trick you into thinking it is impossible. Consider the foggy parts as elements that will figure themselves out on the way. What will you reach for?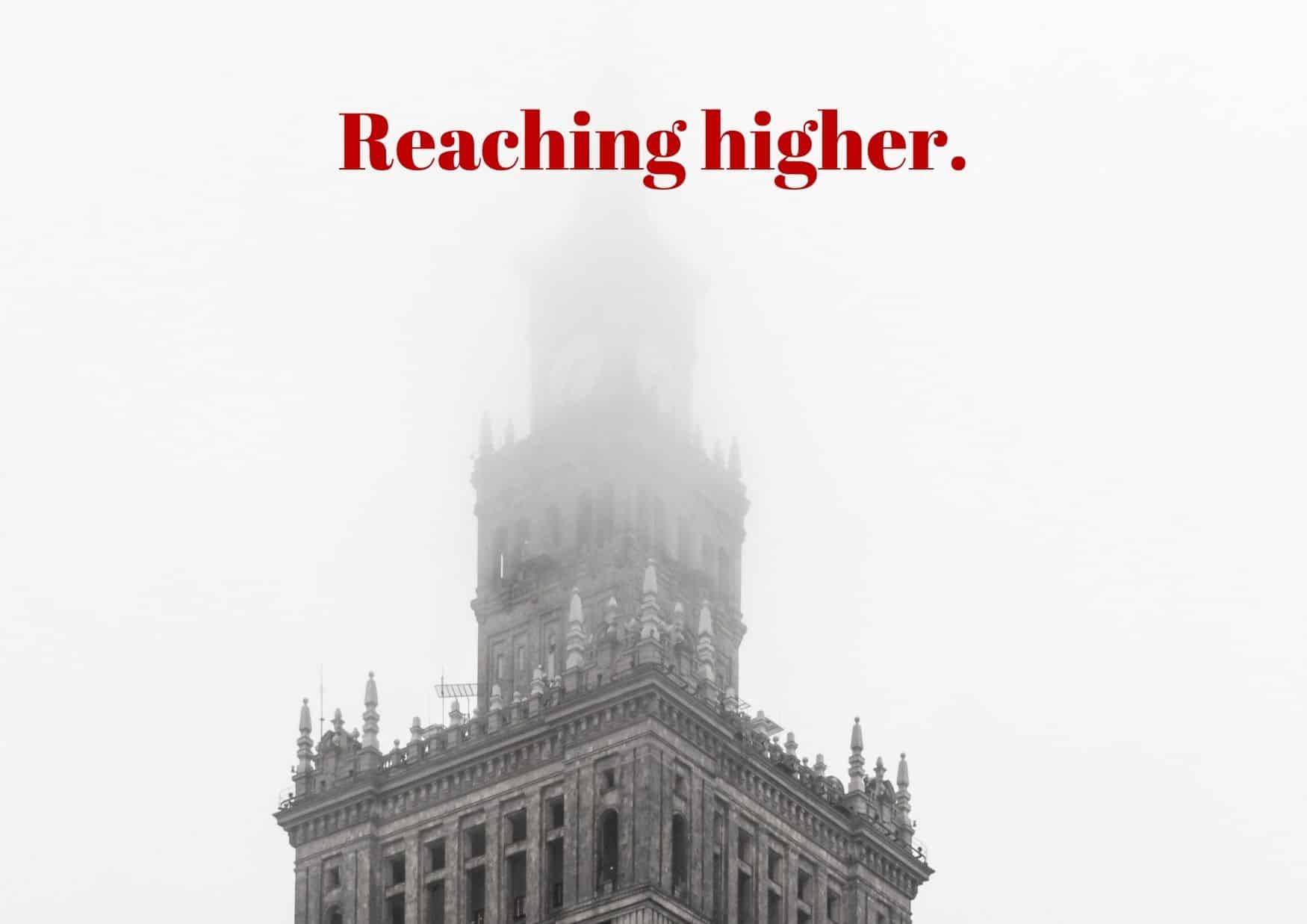 ---
📆 December
Dec 2nd: Maria Callas's Birthday
Dec 5th: Day Of The Ninja
Dec 6th: St. Nikolaus
Dec 8th – 15th: Chanukka (Jewish)
Dec 13th: Santa Lucia Day (Scandinavia) + Arancini Day (Italy)
Dec 16th: Ugly Sweater Day [what is more spooky – Halloween or this? 👻]
Dec 21st: Winter Solstice
Dec 23rd: Festivus
Dec 24th: Christmas Tide + Christmas Eve
Dec 25th: Christmas
Dec 31st: New Year's Eve + Make Up Your Mind Day
Hey! Why did nobody tell us sooner that new year's eve and 'make up your mind day' are coming along together? #makessense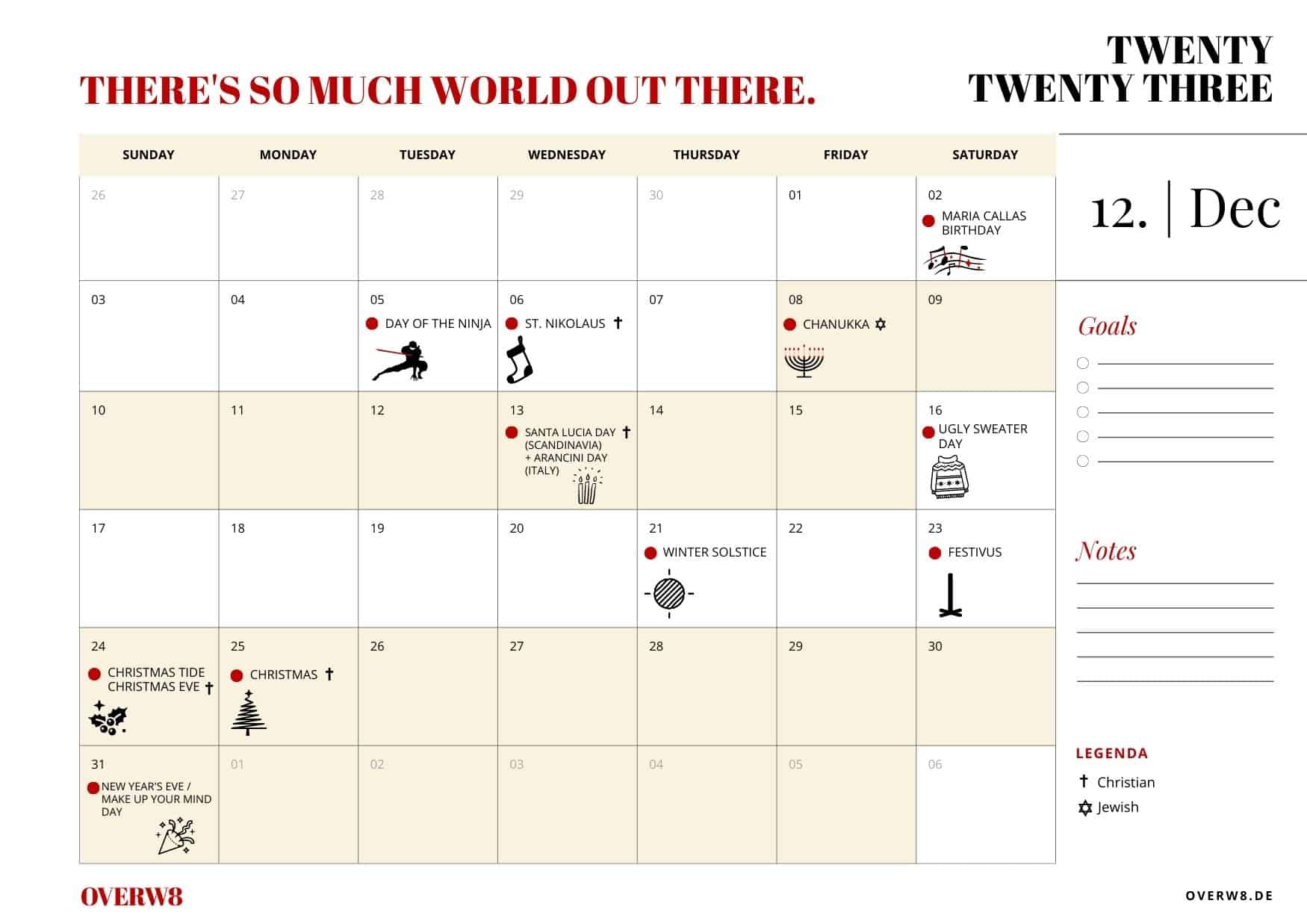 Inspiration for December
Especially in December before the winter solstice, all dark and grey, people in a hurry, it can become a bit challenging to still note the magic. Soaking up the magic of life, a solid break, and doing nothing can be great for recharging – and hey: maybe, if you start on the 24th of December, there are still seven days to go!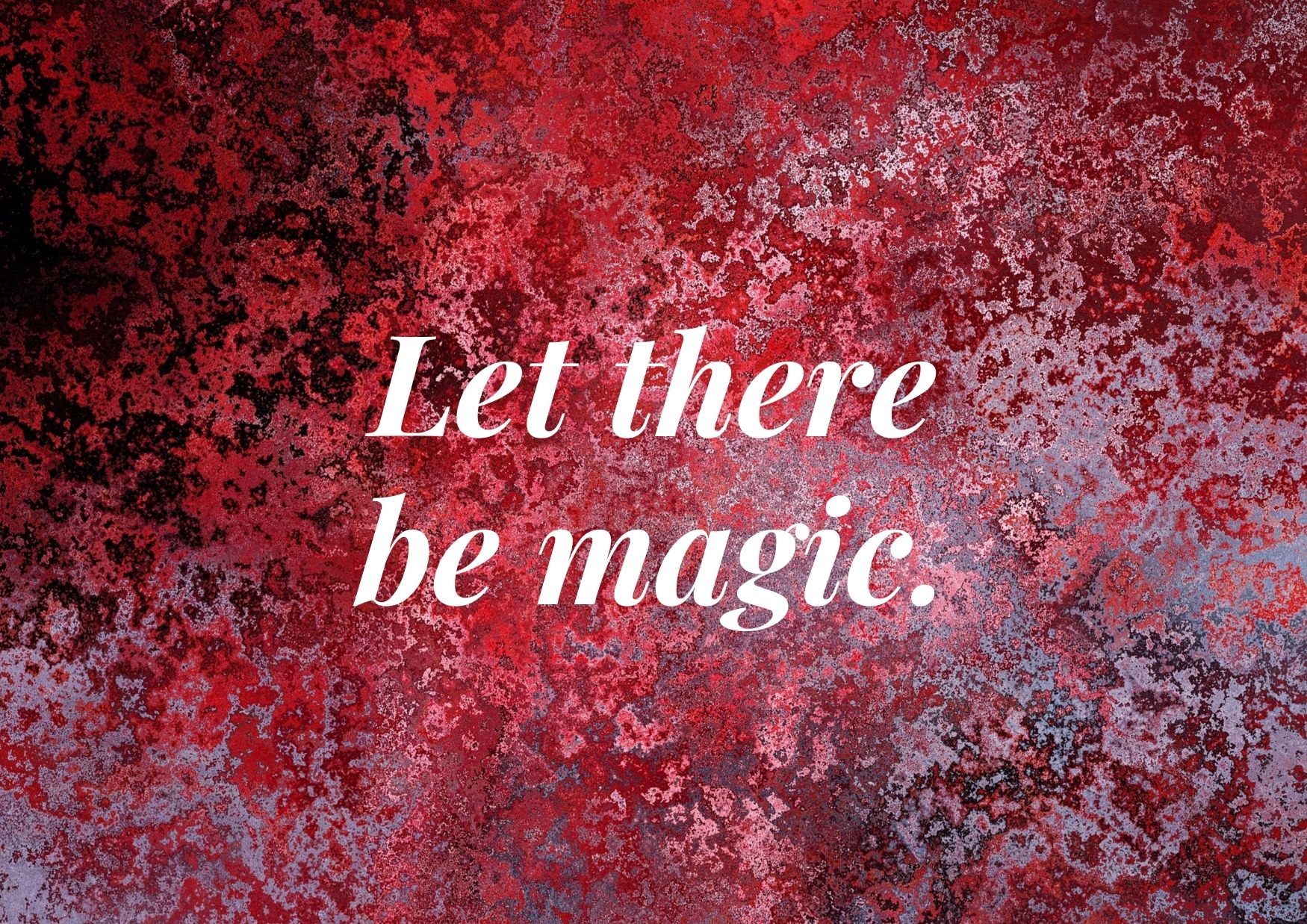 ---
---
Wrapping it up…
we got two cool tools for you and your easy Social Media Content Creation in 2023:
Do you find it pretty annoying having to add the emojis one by one when you try structuring the copy of a post? Go no further – we've created a tool for that – the freemojiwriter: https://overw8.de/freemojiwriter/
You'd like to map out your ideas including hashtags, emojis etc, and create campaigns in an agile way? Maybe in several language versions? You've come to the right place – check out the amazing content creation, mapping, and storing tool Ägile Ässets. It comes with a generous trial these days – so why not give it a try?
Let me know… which holidays and anniversaries were new to you?
Which holidays, birthdays, and people would you add for your own version?
And do not forget to hashtag whatever you do with it… we love to see what you create! #somuchworldoutthere